We are working on tomorrow's challenge today
Technology is constantly evolving and impacts any industry we supply to. Braking systems are becoming ever more compact and this with constant or greater process energy to be destroyed during the decelaration process. Not only are systems increasingly exposed to mechanical forces and pressures but to ever higher temperatures which affect first and foremost the friction linings. Hence, Furka Reibbeläge is constantly searching, evaluating and testing new raw materials to further enhance the tribological and physical/ mechanical product properties. We are striving for products that reliably perform even in the most demanding operating environment.
Innovation
Get me engineers who haven't learned what can't be done! (Henry Ford)
In cooperation with our customers
In addition to the in-house development of innovative friction lining recipes we are engaged in an EU funded project (Horizon 2020) for the development of a biodegradable filler material (nano-fibrilllated cellulose) that comes with very specific and exciting properties.
Furthermore, together with the Zürich University of Applied Sciences (ZHAW) we are working on the development of a very temperature resistant resin compound for friction liners installed in temperature exposed applications.
And finally: if you have an idea for which you are looking for an implementation partner – you are welcome to get in touch with us!
Furka Reibbeläge AG
Phone: +41 (0)61 785 95 00
Innovation example:
Wear and tear of the brake pad is very critical for our customer's machine operation. If the maximum wear of the pads is ignored the machine's operational reliability and thus availability is immediately impaired with economic consequences. As a solution, we have developed a system that monitors wear and tear and sends an alarm to the machine operator when maximum wear is reached.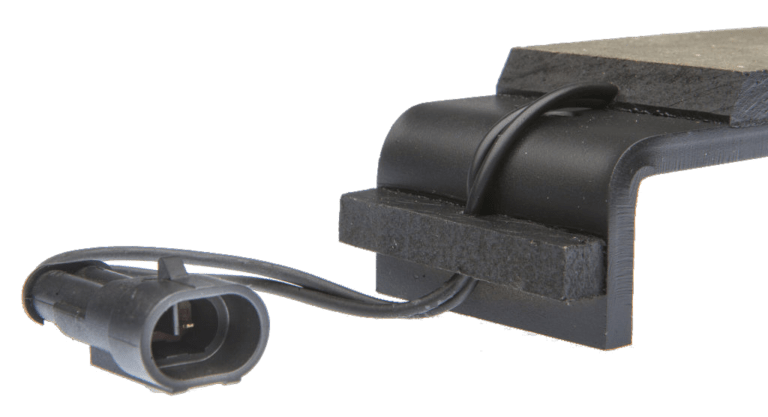 F E E L


Furka Extended Engineering Link

Our Engineering & Management Team is linked to strong network of Business Partners in the Railway Industry, well consolidated and established over time and through significant activities in International Projects.

This key background fact fuels our capability to offer a really effective support in the Project Management area too, extending much beyond brakes and allowing our own Customers – mostly when undertaking modernization and improvement projects, on existing vehicles – to reach out to several professional top suppliers, in a very effizient way!
Dynamometer and test facilities
(Besides our own standard tests procedures we test materials according to customer specifications)